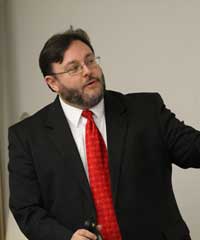 Distingished Professor
Director of Honors College
---
Department
Role: Faculty
Campus: Springfield
---
Postal mail
Missouri State University
History
901 S. National Ave.
---
Details
Education
PhD, Latin American Studies/Latin American History, 2000, Tulane University
MA, Latin American Studies/Latin American History, 1994, Tulane University
BA, History/Chemistry, Cum Laude, 1992, Virginia Polytechnic and State University
Teaching
HST 350: Latin American Civilization
HST 383: A Global History of the Inquisition, 1478-1834
HST 397: History of Piracy in the Americas, 1492-1820
HST 598: Senior Seminar: Comparative Colonialism - European Empires in the Americas, 1492-1800
HST 760: Proseminar in Latin American History
HST 792: Graduate Primary Source Proseminar
UHC 410: Honors Seminar on Mesoamerican Ethnohistory
UHC 410: Honors Seminar on Spanish Conquest & Colonization
Research and professional interests
Dr. John F. Chuchiak is a specialist on colonial Latin American history with a research emphasis on the history of Mexico and Maya ethnohistory. He teaches a variety of history courses, ranging from introductory courses on Western and world civilizations, upper level undergraduate courses on Latin American civilization and pre-Columbian cultures, and graduate courses on the history of Mexico, Mesoamerican ethnohistory, and the history of the Inquisition in Spain and the New World.
Dr. Chuchiak's general research focuses on the history of the colonial church in México with a special emphasis on the Franciscan Missions, the Inquisition and the Catholic Church in colonial Yucatán. His most recent publications have examined the contact and colonial transformation of the indigenous cultures of México, most notably the Maya of Yucatan. He is especially interested in researching the realms of Christian mission history, religion, ethnic conflict, gender and social change in the wider Atlantic world.
Selected publications
Chuchiak, J.F., and Luis René Guerrero Galván, (2017). Edictos de Fe del Santo Oficio de la Inquisición de la Nueva España: Estudio Preliminar y un Corpus en Facsímile (Mexico City: Instituto de Investigaciones Jurídicas, Universidad Nacional Autónoma de México), 2017. (728 pp.)
Chuchiak, J. F. (2012). The Inquisition in New Spain, 1536-1819: A Documentary History, Johns Hopkins University Press, 2012. (464 pp.)
Chuchiak, J. F. (2017). "Sin, Shame, and Sexuality: Franciscan Obsessions and Maya Humor in the Calepino de Motul Dictionary, 1573-1615" published in David Tavarez Words and Worlds Turned Around: Indigenous Christianities in Latin America, University Press of Colorado, 2017.
Awards and honors
Nominated for induction as a Corresponding Member in the prestigious Guatemalan Society for Geography and History, 2017
University Foundation Award for Teaching, Missouri State University, 2015
International collaborator in GERM (Groupe d'enseignement et de recherche sur les Mayas et la Mésoamérique), Université Paris 1, Panthéon-Sorbonne, France, 2013
Recipient of an prestigious International Research Recognition (Homenaje) for research contributions to the study of Maya culture from the Universidad Autónoma de Campeche in cooperation with the National Council of the Culture and Arts (CONACULTA) and the National Institute of Anthropology and History (INAH) of Mexico, 2013
Selected as International member of the Research and Scientific Committee for the annual organization of the Mesa Redonda del Mayab academic meetings as part of the International Festival of Maya Culture (FICMAYA), selected by the National Institute of Anthropology and History (INAH), the Ministry of Culture in the Mexican State of Yucatán, and the National Ministry of Culture of Mexico, 2014-Present
University Foundation Award for Research, Missouri State University. 2010
Student Government Association (SGA) Commendation for Excellent Service on the Organization and Implementation of Hispanic Heritage Month, 2008
Rich & Doris Young Honors College Endowed Professorship, Missouri State University, 2007
College of Humanities and Public Affairs Service Award, Missouri State University, 2005
College of Humanities and Public Affairs Grant Writing Award, Missouri State University, 2005
University Faculty Summer Fellowship Award, Missouri State University, 2005
College of Humanities and Public Affairs Research Award, Missouri State University, 2004
College of Humanities and Public Affairs Teaching Award, Missouri State University, 2003